31
10
2007
Cairns (30.10.2007-01.11.2007, hopefully we'll be out of here by tomorrow)
In Australien, so sagt man, gibt es mehr tödliche Tiere als irgendwo sonst auf der Welt. Bill Bryson schildert in "Down under" ausführlich, auf wie viele verschiedene Arten man in Australien qualvoll sterben kann. Mehr als die Hälfte dieser Bestien leben im Wasser.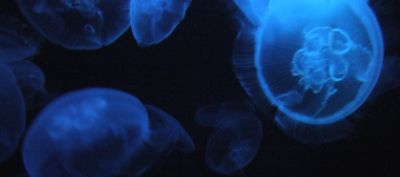 Hier in Queensland geht zum Beispiel bald die Box-Jellyfish-Saison los und dann bevölkern glibberige Quallen die Strände, deren Berührung äußerst schmerzhaft ist, wenn nicht tödlich.

Neben Haien und Krokodilen sind im Wasser auch Stachelrochen ein großes Thema und eine Unzahl anderer Fischviecher, die extrem giftig sind. Das Risiko, diesen Tieren zu begegnen, ist kein theoretisches. An unserem ersten Tag im Daintree Nationalpark haben wir ein Salzwasser-Krokodil gesichtet, das scheinbar gemütlich am Strand entlang schwamm.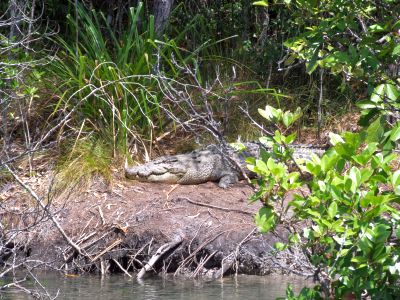 Das zweite Krokodil konnten wir auf eigenen, eindringlichen Wunsch aus sicherer Entfernung und in einem Boot sitzend beobachten. Damit zählten wir uns zu einigen wenigen Glücklichen, denn die Krokodile halten sich dieser Tage meist im Wasser auf und kommen nur raus, wenn es ihnen zu kalt wird im Wasser, aber da die Wassertemperaturen täglich steigen, ist das selten der Fall. Unser Freund hier hat sich später auch ein bisschen Abkühlung verschafft, indem er sein Maul aufsperrte. Gruselig.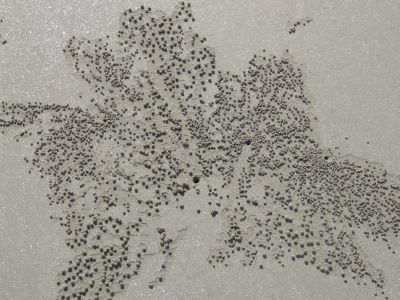 Bleibt man einfach an Land, können einem die ganzen Wassertierchen natürlich den Buckel runterrutschen. Aber erst, wenn man man die Traumstrände Australiens mit eigenen Augen gesehen hat, weiß man, wie weh das tut. Und dann ist einem langweilig, weil man nicht weiß, wie man die endlose Zeit an diesen Traumstränden totschlagen soll. Bei dieser Gelegenheit haben wir die
beach art
erfunden.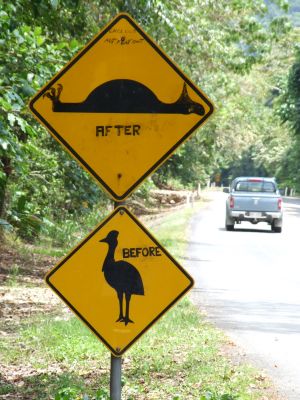 Was die Todesgefahren betrifft, so bleiben - hat man sich also entschlossen, nicht ins Wasser zu gehen - dann im Wesentlichen nur noch die giftigen Spinnen und Schlangen übrig, die man aber viel seltener antrifft. Und natürlich kann man sich auch von einem Kängaruh, einem Koalabären, einem Emu oder einem Cassowarry (beide ähnlich dem Vogel Strauß) stilvoll um die Ecke bringen lassen.
Wir haben die letzten beiden Nächte mit unserem Wohnmobil im Regenwald gecampt und mir ging vor allem nach Einbruch der Dunkelheit die Klammer, weil man im Dunkeln auch nicht unbedingt so einer 'harmlosen' Riesenechse (siehe z.B.
Lace Monitor
) über den Weg laufen will - und die haben wir auf unserem Campingplatz tatsächlich gesehen. Also musste ich dann halt mal nicht nachts aufs Klo...
Eine echte Alternative zum Meer sind Flüsse und so genannte Wasserlöcher. Die Mossman Gorge zum Beispiel ist ein echt guter Tipp ("real beaut"), wenn auch kein besonders geheimer (die 50 anderen Badenden habe ich geschickt abgeschnitten, daher das längliche Format des Fotos).
Andere Wasserlöcher, wenngleich von den Einheimischen hochgelobt ("No crocs in there!"), stellen uns eher die Nackenhaare auf und wir nähern uns nur vorsichtig und ohne nass zu werden.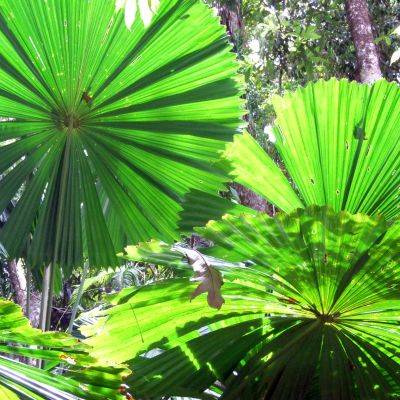 Der Daintree Regenwald, der, wie von den Einheimischen gerne betont, zum Weltkulturerbe zählt, ist wirklich bezaubernd. Und da auch das Great Barrier Reef zum Weltkulturerbe gehört, treffen sich im Norden von Queensland zwei Weltkulturerben (?) - auch gerne von den Locals hervorgehoben ("Once you step from the beach into the water, and thereby leave the rainforest and approach the Great Barrier Reef ..." usw.).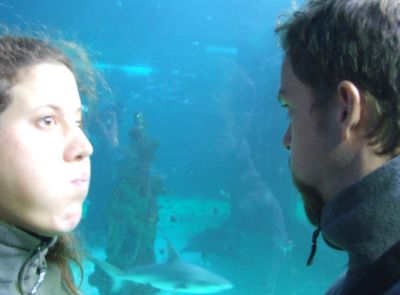 Am Montag haben wir an einer Schnorcheltour teilgenommen, endlich, und das war wie von den Reisebüros vorhergesagt
fantastisch
("Probably the best thing you"ve ever done!"). Mit einer kleinen Gruppe von 24 Personen sind wir auf einem Boot eine dreiviertel Stunde rausgefahren. Ich war etwas aufgeregt, wegen der ganzen oben erwähnten Gefahren, aber bei der Einführung wurde die Zeit darauf verwendet, uns zu erklären, wie man Flossen benutzt (aus der Hüfte und den Fußgelenken), wie man verhindert, dass die Maske anläuft (defog) und wofür die verschiedenen Anzüge gut sind (zum Warmhalten und gegen Sonnenbrand). Meine bescheiden nachgeschobene Frage, ob es da draußen denn irgendwelche Gefahren gibt, wurde mit "Nothing to worry about" ("Nichts, worüber man sich Gedanken machen müsste") beantwortet. Ich habe dann beschlossen, das trotz aller Warnungen nicht weiter zu hinterfragen und wurde dafür reichhaltig belohnt.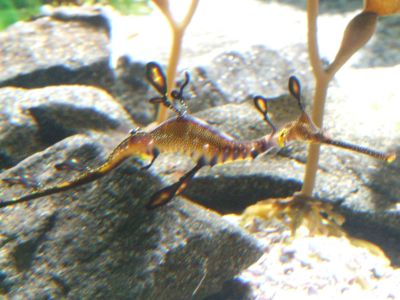 Es tut sich ein eigenes Universum auf. Alles, was wir im Aquarium in Sydney bereits gesehen hatten, war da. Ich habe Moorish Idols gesehen, Clownfische (Nemo), einen Hai (klein und weit weg), mehrere Schildkröten, einen Langnasenfisch, unendlich viele Fische, deren Namen ich nicht kenne, und noch viel mehr Korallen, deren Namen ich noch viel weniger kenne. Wahnsinn. Ungeschlagen. (Die Bilder sind allerdings im Aquarium in Sydney aufgenommen).
Carmen
Comments :
3 Comments »
Trackbacks :
No Trackbacks »