21
03
2008
Perú (since 27.02.2008)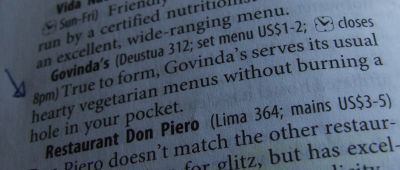 In Puno Thom discovered in the guide book (yes, the famous one) that there is a Govinda's just around the corner from where we were staying. We went there twice. The first time at 8.30 pm it was of course too late for a Hare Krishna place. The second time at 10.30 am it should have been okay, but still we found the place shuttered. Considerable disappointment on Thom's side, of course.
In Arequipa we ran up and down calle Santa Catalina and when we finally asked someone we learned that Govinda's had been closed ages ago.

At Arica 450 in Nasca we found a sign saying "vegetarian restaurant" but again a neighbour told us that it has been a while ...
Back in Lima we finally found the Govinda's in calle Schell, but the menú was not quite what we had expected.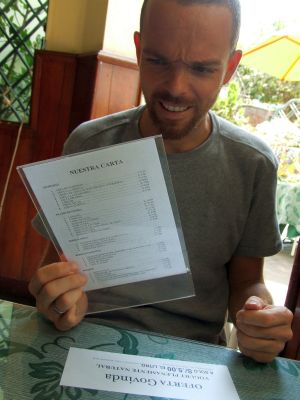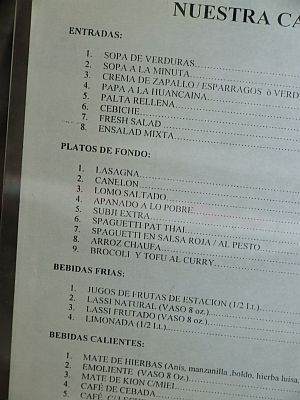 So maybe this Lonely Planet copy is not quite cutting-edge ...
Carmen
Comments :
No comments »
Trackbacks :
No Trackbacks »